MWC 2019: All the big announcements and launches
Mobile World Congress (MWC)
is one of the world's largest tech events each year. Each year, mobile industry experts, companies, media, investors, and more head to the event to literally see what's new. Several smartphone makers and other companies use this platform to showcase their upcoming handsets or technologies. Generally speaking, almost all the big brands in the mobile arena such as Samsung, LG, Xiaomi, and Huawei (but not Apple) take part in the show in one way or another. MWC 2019 took place in Barcelona from Feb. 25 to Feb. 28, and while most of the coverage has been bagged by Microsoft's HoloLens 2, there were plenty of other mobile technologies and latest smartphones showcased at the event. (The theme of this year's event was "Intelligent Connectivity.") Speaking outside of the consumer sphere, MWC this year also had announcements made about 5G, mobile hardware, VR gear, and smart wearables.
The biggest launches of Mobile World Congress 2019


Qualcomm
Qualcomm announced the X55 second-gen modem before the show, but used MWC to confirm that 5G is very much here and now, saying that the roll-out will be 10x faster than 4G. It's very much an Android experience at the moment with a number of 5G handsets announced at the show and switch-on for a number of networks across the globe in 2019.

Qualcomm also announced that it had plans to release a Snapdragon platform with integrated 5G, which will make it cheaper and easier for manufacturers to integrate 5G into more devices. Additionally, Qualcomm said it is certifying wireless Quick Charge devices - the first of which is the 20W Xiaomi charger.
Samsung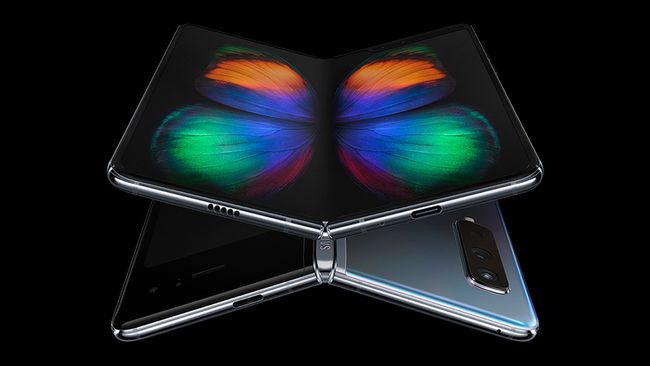 Company unveiling its much-rumored (and seriously exciting) Samsung Galaxy S10/S10 plus smartphone during the show, just like it did last year with the Galaxy S9 and its latest and greatest wares, including the Galaxy Fold and Galaxy S10e ahead of time on February 20 and showcased it on MWC 19.
Sony
Sony introduced three new handsets at MWC 2019 and all these three smartphones boast a 21:9 aspect ratio displays. The company showcased Xperia 1, Xperia 10, and Xperia 10 Plus at the event. While the Xperia 10 and 10 Plus are midrange smartphones, the Xperia 1 is the company's replacement for its existing XZ series of flagship devices.
The Xperia 1 sports a 4K HDR OLED display. Sony has made its new phones rather tall with a skinnier form-factor and claims that this allows better grip and accessibility for users. The device sports a Snapdragon 855 SoC paired with 6GB of RAM. The device runs Android 9 Pie out of the box and features an IP68 rating for dust and water protection.
As for the imaging, the Xperia 1 features a triple camera with optical image stabilization (OIS) and all three of these sensors are of 12-megapixels each. While Sony is yet to disclose the exact availability date and the price tag of the Xperia 1, the Xperia 10 and Xperia 10 Plus will go on sale at $350 and $430, respectively
Huawei
One of the show's biggest announcements came in the form of Huawei's folding phone, the Mate X. It's not the first foldable phone , but it is the most sophisticated, thanks to an OLED panel that bends across a hinge to flip between tablet and two-sided phone formats. It makes the Samsung Fold, announced on 20 February, look like more of a prototype by comparison. But the Huawei will be a lot more expensive, at €2299, when it launches in the "middle of 2019".
The company also announced its updated laptops range, with the MateBook 13, MateBook 14 and MateBook X Pro all featuring.
Xiaomi
The company launched the 5G version of Mi9 and Mi Mix 3.
The Mi 9 features a 6.39-inch Super AMOLED display and is powered by the Snapdragon 855 SoC paired with up to 8GB of RAM. The device comes with a triple camera set up at the back featuring a whopping 48-megapixels main, 16-megapixels ultra-wide, and 12-megapixel telephoto sensors.
The Mi Mix 3 5G, on the other hand, also comes with almost similar top-class specifications and is additionally powered by the Qualcomm's X50 5G modem to support 5G networks. The Mi 9 price starts at around €400 whereas the Mi Mix 3 5G starts at €599.
Nokia
The company launched Nokia 9 PureView, the company's first smartphone boasting 5 cameras at the back. The device sports a 5.99-inch display powered by an OLED panel with 2K resolution. The device comes with a Snapdragon 845 processor under the hood and runs on the Android 9 Pie, out of the box.
The device comes with a whopping five camera sensors featuring Carl Zeiss glass to get the most out of the mobile photography. The phone also comes with a unique camera app, which is fine-tuned to accommodate and get the most out of all the five camera sensors.
The Nokia 9 PureView is undeniably a camera-centric smartphone and will be available in limited quantities at €599.
The 9 PureView isn't about offering a multitude of wide-angle and zoom optics, though, its five cameras are there with the aim of helping you produce the best quality shot.
Oppo
Oppo showed off its first taste of a 10x zoom system, as well as showing off its first 5G handset - the very same phone.
It's part of a triple camera unit, but it's the periscope-like 10x zoom that's the real takeaway feature. No other manufacturer can offer such significant zoom within a phone - well, not without cropping/resolution loss anyway - which means the 2020 Oppo release plan for a new flagship should be very interesting indeed.
LG
LG unveiled its first 5G phone, the

LG V50

. It's got five cameras − three on the back and two on the front − a 6.4-inch OLED display, a Qualcomm Snapdragon X50 modem and a big 4000 mAh battery.
LG G8 ThinQ

also landed at MWC 2019, and it comes with some interesting features.
First up is Hand ID, a new way to unlock your phone with a wave over the phone's screen as it scans the veins in your palm.

The phone has a hole-less vibrating top speaker and innovative video portrait mode.

A slightly modified version, the

LG G8S ThingQ

, drops to a Full HD resolution for a cheaper price tag.
Microsoft
Microsoft launched the second generation version of its augmented reality headset. The Microsoft HoloLens 2 is lighter, smaller and more advanced than the previous model, with a wider field of view and much higher resolution displays for each eye.
The new and improved HoloLens offers a greatly increased field of vision, improved physical comfort and improved hand recognition, allowing for greater manipulation of holograms. Microsoft says it's primarily for industrial applications, but, there is a strong hint that we will see a consumer grade, and possibly a game-centric HoloLensin the future:"
It is available for pre-order now for $3,500.Also available for pre-order is Microsoft's Azure Kinect Time-of-Flight sensor camera that can be used to automatically detect circumstances in workplaces and much more.
The

Nubia Alpha

wearable smartphone/smartwatch hybrid that was first announced as a concept at IFA last year also made an appearance at

MWC,

and appears to be a lot closer to reality.
It features a 4-inch 960×192 OLED display, a 500mAh battery for up to two days of battery, and a range of fitness features, including heart rate tracker. There's also support for voice commands and gestures.
The basic Bluetooth and Wi-Fi model will be priced at €549 (~ £470), while the 4G enabled version − that comes complete with an 18-karat gold coating − will cost €649 (~ £560).