Spotify officially launched in India, Premium plans start at Rs 119 per month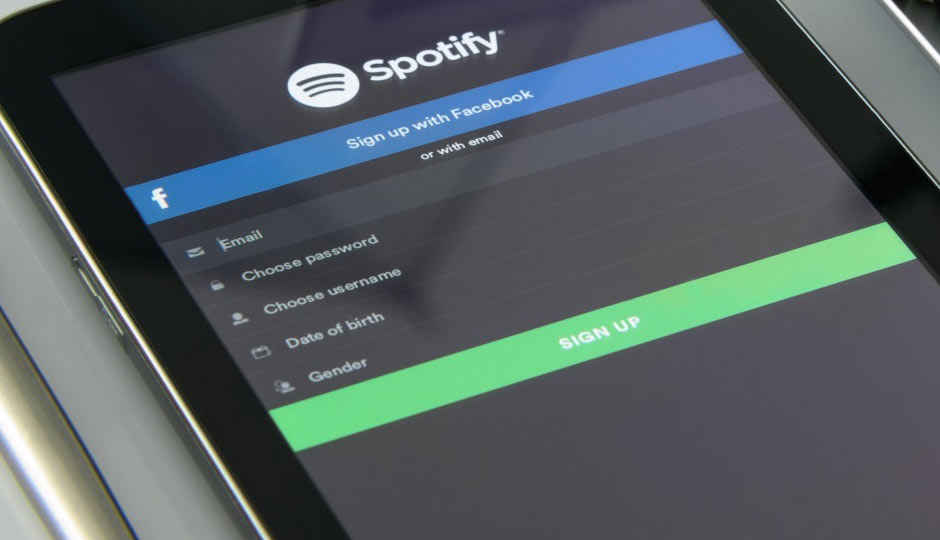 Spotify which has been eyeing an India launch every since they set up shop in India last year might finally get to open doors to Indian subscribers today. Spotify's India launch had been on hold due to ongoing lawsuits over licensing terms. However, it seems that the subscription page is now live and we've confirmed that Spotify subscriptions can be purchased using Indian credit cards. While there is no official word from Spotify, the homepage of the website has been updated and now indicates that the service is live. Spotify Premium is currently priced at Rs.119 per month and Rs.1189 for a yearly subscription. We should mention that the entire subscription process was completed from an Indian IP without a VPN.
UPDATED: Spotify India Launch
The official website for Spotify has been updated as of 11:30 PM IST to show that the service is now live in India. The
Android app store link
which was until now disabled, has been made live. And the
iTunes app
has also gone live. Users can easily sign-up for an account using email or Facebook without a VPN. Once signed up, the subscription page will allow you to set your profile to India and then proceed with choosing a preferred subscription plan, the details of which can be found below.
Spotify India subscription price
We managed to subscribe using an Indian credit card and were presented with the
following plans
for Spotify Premium.
Rs. 119 per month
Rs. 1189 per year
There are also one-time payment options i.e. top-ups available in case users don't want to opt for subscriptions.
Rs. 13 for 1 day
Rs. 39 for 1 week
Rs. 129 for 1 month
Rs. 389 for 3 months
Rs. 719 for 6 months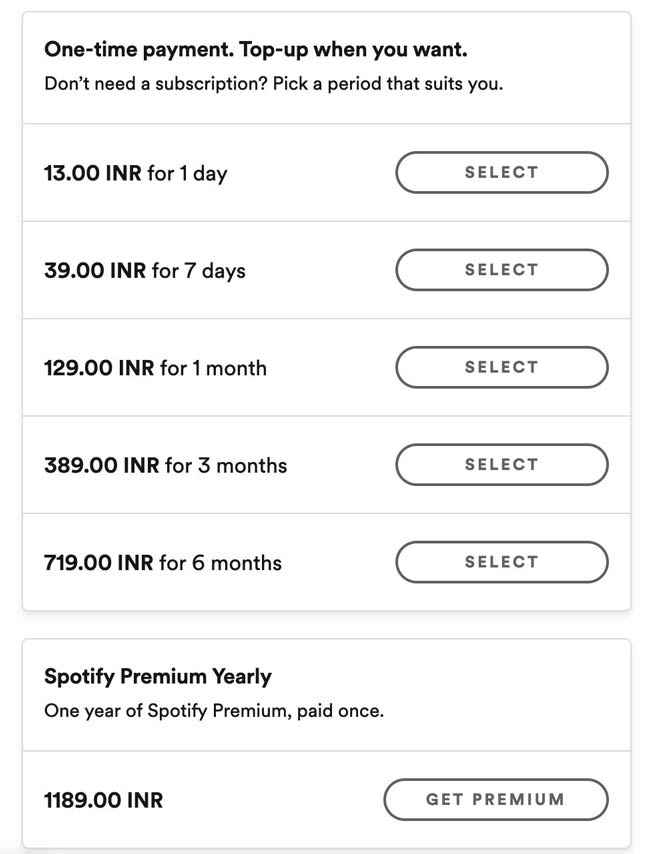 Lastly, students can get Spotify Premium for up to 50% off / month. We haven't figured out exactly what qualifies one to obtain the student discount but if we are to look at existing implementations in the US, then anyone who is enrolled in a US Title IV accredited college or University is eligible. Moreover, Spotify uses a third-party service called SheerID to verify enrollment status. In India, Microsoft and Adobe have tie-ups with colleges through which the students can obtain discounted software. Similarly, students with email IDs ending in a .edu TLD are eligible for discounts. As of now, we do not know how Spotify is going to approach this problem in India.
Legal issues
Earlier,
Warner Music Group had filed an injunction against Spotify
for copyright infringement. A WMG statement to Bloomberg said, "After months of negotiations, Spotify abruptly changed course and has falsely asserted a statutory license for our songwriters' music publishing rights in India."
When it comes to licensing, there are two ways to use copyrighted material - compulsory licensing and statutory licensing. The former (compulsory licensing) allows one to use copyrighted material certain procedures are negotiated beforehand and a predefined fee is paid. Where with statutory licensing the rate of royalty is decided by the Copyright Board. Therefore, permission of the copyright holder is not required before using the copyrighted material. The only condition is that the fee is paid. In this case, the license is created by statute and not the copyright owner nor the user.
In a ruling today, the Bombay High Court has allegedly denied WMG/Chappel their request for an injunction. A Spotify spokesperson told Music Business Worldwide, "We're pleased with today's outcome. It ensures songwriters, artists, labels, and publishers will benefit from the financial opportunity of the Indian market and that consumers will enjoy an excellent Spotify experience. As we've said all along, we're hopeful for a negotiated solution with Warner based on market rates."
However, Warner Music Group hit back at Spotify
with this statement
(also given to MBW), "For Spotify to claim that the court denied our injunction is a lie."

TL:DR - Spotify has to submit the complete records of any use of WMG's music to the High Court, in addition to all information pertaining to revenue generated due to consumption of the same music. According to WMG, Spotify has not been granted a statutory license. Spotify cannot pursue proceedings for their claim to a statutory license before the Intellectual Property Appellate Board for four weeks. After which, the legal proceedings should continue. As of now, Spotify has officially launched in India. Whether Spotify is infringing on WMG's copyrighted material will be decided at the end of the four-week period.